Using YouTube Videos for Vehicle Check In Documentation.
Come explore mind blowing opportunities to transform your Body Shop with the Google Suite of services. Chances are you probably already have them at your fingertips!  It is time for Body Shops to step out of the Stone Age. Here is the story of my journey and a few Free Tools that will instantly change your Body Shop. If you missed the Second Article in this series, you can view it here. This discussion will detail Using YouTube Videos for Vehicle Check In Documentation.
The Problem
If a picture is worth 1000 words why not use video? Video is by far the most powerful communication tool because it reaches multiple human senses instead of just one. An image without audio or audio without and image doesn't completely communicate the message. Sight and sound are extremely powerful tools that are sure to help you in your quest to communicate with customers. The problem is that most people are afraid of video because they are hard to store and share.
Options
In our last article we discussed using Google Drive to store and share photos. We could store video in Google Drive as well but it would quickly consume your storage space. Videos can be shared with Air Drop or other files storage systems like Box or Drop Box as well. We think you will like the solution we have for you here better though so lets get started.
Let's Review the Solution.
Using YouTube Videos for Vehicle Check In Documentation. YouTube is in the Google Suite of Services. It is very simple to use.
For Video, this info graphic will explain how you can transform Body Shop with YouTube and Google.
It looks really complicated, right? Listen, if I can figure it out, anyone can. Let's step through the things you need to begin using YouTube Videos for Vehicle Check In Documentation..
Google Account. If you have a Gmail, or if your company's email is based on using Google as the email provider, you have a google account. Take a look at what is available to you from Google Here.
Download the YouTube App on your phone. This will allow you to use YouTube right on your phone.
Shoot Your first Private link video and share it with a test subject. Here is a Video for reference.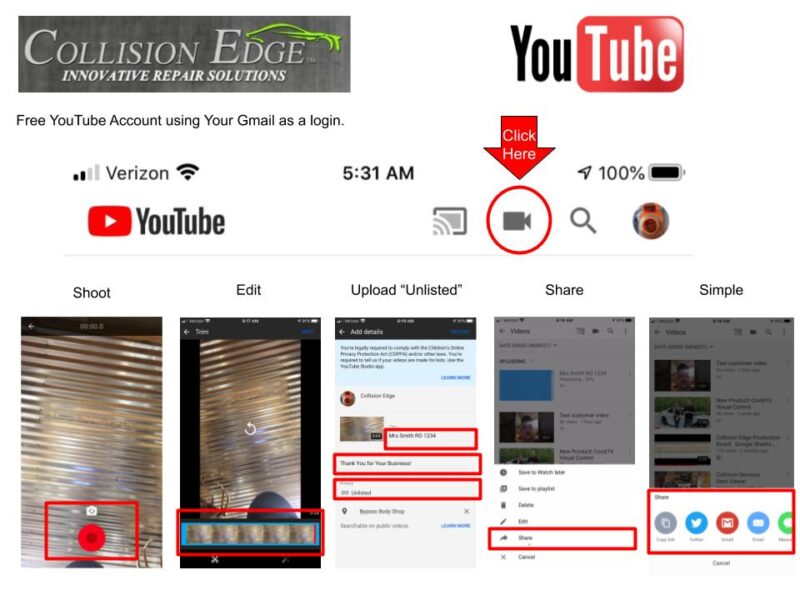 Using YouTube Videos for Documentation.
The folowing items are places you could you use videos to communicate with your customers:
Check in Walk around. Thoroughly explain the repair and capture prior damage even if the customer doesn't have time or is not available at dropoff. This link can be saved in your estimating system for future reference. Video will capture everything especially if you use The Dent Viewer MD.
Updates on repair status. Update your customer with a video explaining where you are in the repair. It gives you the opportunity to speak face to face with your customer. We would suggest to avoid video of the actual repair, just use the tool to communicate with your customer in a new way.
Final Review of the repair. Review any details of the repair with the customer as you would at the time of the vehicle pickup. The customer can review the video if they choose, it will save you time and allow you to schedule your time better.
Customer Testimonials. You will want to share these videos publicly! Ask your customers to shoot a video, some people like to be in pictures!
Remember, you are in total control of your videos. You can delete the video at any time you choose.
In Summary
In a day when shops are operating on razor thin margins, you cannot afford to miss any detail of the repair. Using YouTube Videos for Documentation is a great tool to both capture damage and communicate with your customers in the way you choose at the time you choose.
Collision Edge would love to give you some advice on setting up your own system.  The best part of using these applications is that you can easily customize a solution that matches the way you want to do business.  Just shoot us an email [email protected] Visit us on the web at www.collisionedge.com to see more of our solutions relating to better estimate photos.
Check Out Some of our other Articles.