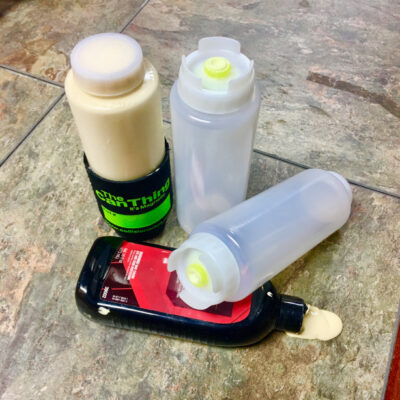 Tim Briggs, owner of Collision Edge. We are dedicated to the success of our customers. Putting it simply, we find new solutions to old problems.
Over the course of the last 20 years of watching techs work, we've witnessed inefficiencies and drawn inspiration from unlikely sources. Today's story is no different.
The Problem
The Collision Industry is full of creamy, sticky messy products that dispense from bottles. A buffing compound, polish, Metal Glaze, etc. Recently I watched a detailer beat a clogged compound bottle mercilessly to dispense the product he needed to do his job. In the end, he unscrewed the cap and threw it at the nearest trash can…of course, he missed and in the process accelerated the pace that his compound would dry out and be ruined.
Later that day I was at my favorite sandwich shop and saw the lady dispensing Mayo from a curious little double ended bottle. One end unscrews to fill the other end had this glorious little valve that dispensed with no leakage…I laughed out loud, everyone thought I was crazy.
The Solution
The bottle stands on its own upside down like a Heinz Ketchup bottle. When wet product sits on the opening it doesn't dry out…it's the same reason to store PPS mixing cups upside down to protect the filter. The tip comes in 3 sizes, small for thinner products like polish and wax, medium for compound and metal glaze and Large for even thicker applications like Plastic Filler. (We currently offer only the medium tip)
We paired this bottle with "The Can Thing" (a stretchy sleeve with magnets installed) to make the bottle magnetic.
If you choose to use this solution it will quickly pay for itself in waste reduction. The convenience factor is off the chart as well.
Everyone said, "That's a Mayo bottle from Subway." Our answer…"Exactly!" The point is, the answer has always been there but no one saw it! How many other solutions can you find that would improve your daily process. Give us a follow, we will help you look!
Remember, the best material discount you can give yourself is the product you don't use!
Tim Briggs