Replace your windows with doors.
I'm a Rabid Chick Fil A fan. My wife started her Career there at the home office so I've watched this company grow into its own skin. Truett Cathy was a visionary. The business and the people are hyper-focused on customer service. Which leads me to my story; replace your windows with doors.
Customer Focus.
Chick fil a has always had the best drive-through experience in the industry. It's amazing how many cars they serve an hour. A few years back I noticed an employee standing outside the drive up window handing people food. Honestly, I laughed a bit thinking "this is ridiculous" and "I don't see the need". I mean they already had the best drive-through in town so why mess with perfection? I didn't give it another thought as it became a regular occurrence in the drive through to have an associate handing out food and even another associate taking orders and money during the process when the car line wrapped around the building twice!
Continuous Improvement.
Yesterday I went to the new Truett's restaurant in Newnan, Ga. In the beginning, I couldn't understand why they leveled the original restaurant and completely rebuilt it from the ground up. Upon entering the drive through it all became clear. Gone is the menu board with the speaker you can't speak through clearly. Replacing that is a canopy outfitted with radiant heaters and cooling fans. You are greeted by an order taker and someone to take your money and give you a receipt. That was cool, but the customer service lesson wasn't over. As I pulled to the window to get my food, a door slid open and a smiling employee walked to my car, handed me my food and said: "Have a blessed day". I laughed as I pulled away because the most epic learning experiences I've ever had was by being proved wrong.
Chick Fil A knew that to improve the speed and quality of the customer service experience an employee needed to hand deliver the food to the car window…so they put a door where the window used to be! Replace your windows with doors.
Application.
As a Body Shop, what can we learn from this? What windows do we serve customers through now? What can we do to make it better? Do we view customers as people who have had a traumatic experience or as a "Fender blend the door"? Are our customers a severity statistic on a DRP report or people who will load their children into the next car you repair?
We can't get premium pay if we treat our customers like the typical McShop does. If our customers don't appreciate quality and customer service we may be chasing the wrong clients. How will you "Replace your windows with doors."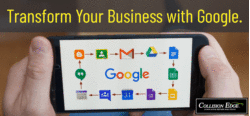 Transform Your Business with Google